Welcome to Community Church!
Who We Are
We are a unique community exploring our faith and path with God. We are here not only for the believer, but also for the questioner and doubter who is hungry for an authentic spiritual life. We are here for those disillusioned with their past experiences of religion who are ready for a loving welcome and a safe place to explore and learn together, respectful of diverse belief, puzzling questions, and strong doubts.
Who to Expect
We are men, women, children, business people, students, teachers, doctors, lawyers, athletes, artists, gay, straight, rich, poor, young, and old, but most of all we are family. Here you will find people community to forming friendships and relationships that deepen as we grow in faith and love. Whoever you are and wherever you are on life's journey, you are welcome here.
What to Expect: A Supportive Community
Expect people to say something like, "Hi, we haven't met before, is this your first time?" Expect for people to reach out to you in love, with open hearts and open minds. Expect to feel free to go at your own pace and bring your own experiences, questions, and ideas. Some people start by attending our traditional worship service on Sundays at 10:00 a.m., where you'll hear amazing music and an inspiring sermon and be invited to sing a couple of hymns and join us as we pray The Lord's Prayer after the sermon - or pray silently, as you choose. We don't have one creed or one way of belief or belonging here. Come as you are, and move at your own pace.
Inspiring Worship
We are known as a traditional church with a contemporary message. Our pastor, Rev. Bob Bauman, connects scriptural teachings with our every day experiences, helping us hear God's ancient message of love revealed in relevant ways for the 21st century. Our choir, soloists, and Minister of Music Rodger Whitten express the scriptural message through the beautiful gift of music. And our Minister of Family & Youth Kathy Kipp offers a brief children's message. All are welcome to join us live on YouTube at 10 am each Sunday, or tune in to view recorded services 24 hours a day, 7 days a week. www.cdmucc.org/youtube
What We Believe
We believe that God's love is available and with us always, and that each person is created in the image of God, invited to receive and share this love with all that we are, all that we say, and all that we do. We trust God's Spirit to work in each and every person, and work as a community to understand the Spirit's call (also known as vocatio) in our lives so that we can develop our highest and best selves, while fulfilling our purpose in the world in meaningful and impactful ways. We hold this to be true of the church, as well as its members.
We are bound by no formal creed. No single set of words are used here as a test of any person's faith. Each person is responsible for their own beliefs, and the formation and shaping of a life to go with those beliefs. We take faith and belief too seriously to limit any person's spiritual path to any other person's language or experience. Even our membership roles reflect this freedom of faith and belief: Each member joins the church anew each year in a process we call "covenanting." Want to delve deeper and join us? Simply write down your intention to be a member of this community, and share it with our pastor or any deacon. It's that simple - and that challenging - to commit to membership here.
Our Purpose
The purpose of this Church shall be to bind together followers of Jesus Christ for the purpose of sharing in the worship of God and in making God's will dominant in the lives of all its members, individually and collectively, especially as that will is set forth in the life, teachings, death, and resurrection of Jesus of Nazareth.
Our Mission
We, the congregation of Corona del Mar Community Church, seek to experience God's presence in our daily lives; to create a loving community which nurtures, cares for and respects each person in its ministry; and to extend this loving ministry in partnership with others.
What We Believe
This Church claims as its own the faith of the historic Church expressed in the ancient creeds and reclaimed in the basic insights of the Protestant Reformers. It affirms the responsibility of the Church in each generation to understand, express, renew, and make this faith its own. This Church recognizes the Bible as the major source of information concerning the example and teachings of Jesus Christ. Each member shall have the undisputed right to follow the Word of God according to the dictates of his or her conscience, under the enlightenment of the Holy Spirit.
How We Operate
Each congregational church, creates its own operating procedures and rules for working together smoothly, developing its own set of by-laws. Click here to view the current by-laws
Our History
Our church has been the heart of the Corona del Mar community since the 1940s. Please enjoy these historical photos from our past.
Community Church began as a neighborhood Sunday School for children in the early 1940s.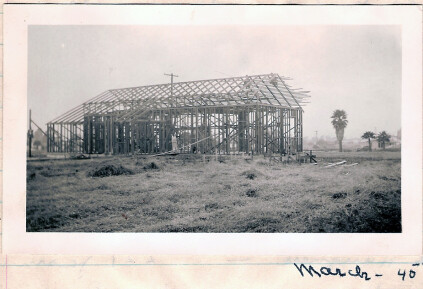 Work began on the first iteration of our campus in the mid 1940s. Take note of the wide open ranch-like land that surrounded the church before homes were built.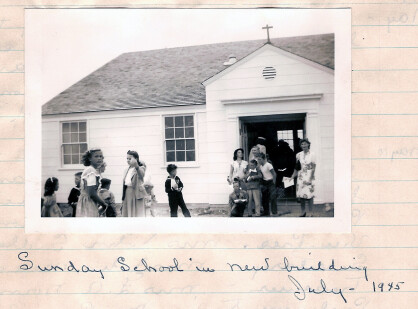 In 1945 the original building opened to host the weekly Sunday School programs and worship.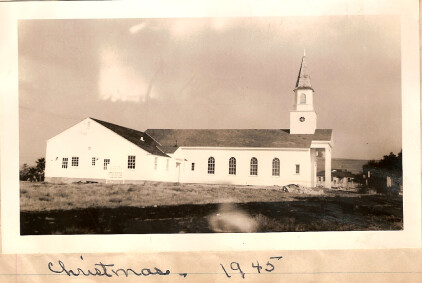 This is the view of completed church in 1945 from Pacific Coast Highway.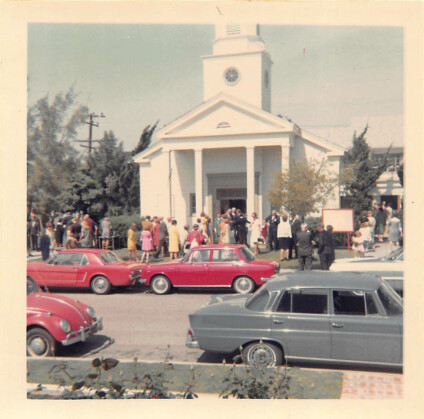 This is one of the earliest color photos of our church.