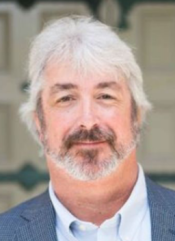 ALMOST EVERYTHING YOU WANTED TO KNOW ABOUT BOB BAUMAN*
*(BUT WERE AFRAID TO ASK)
Bios are interesting things. People want to try and figure out who you are based on what you do. I can tell you that I just finished four years as the Senior Minister at Edenton Street UMC in Raleigh, North Carolina, and came to the Capital City from the Harbor (formerly Wilmington) District of the North Carolina Annual Conference of the United Methodist Church, where I spent twenty-one years with some great congregations: Sunset Park, Grace, and Wrightsville - and one year as the Harbor District Superintendent.
What I'd rather tell you, though, is that I endeavor every day to find ways to stay connected to the Vine (John 15) and to be a bearer of the fruit of the Spirit (Galatians 5). Every day, I pray the prayer of Samuel: 'Speak, Lord, for your servant is listening,' and I try to pay attention to what I hear. Frederick Buechner, Barbara Brown Taylor, Bob Goff, Donald Miller, Anne Lamott, River Jordan, and Jan Richardson are a few of my literary and spiritual North Stars. I look forward to reading them with you.
I'm married to Kelley, who is an RN in the NICU at New Hanover Regional, and whose calling to her work runs as deep as mine. We have three adult children and two exceptionally-handsome grandsons who favor me. I am an above-average bowler, a below-average golfer, an accelerated reader, a fan of driving who loves the accelerator and not the brake, and I love to write. In a past life, I loved southern sweet tea and Sonny's BBQ; now, in a healthier-but-not-nearly-as-tasty edition of the Bauman Chronicles, I am a connoisseur of Milo's Zero Calorie Sweet Tea and sugar-free chocolate wafers.